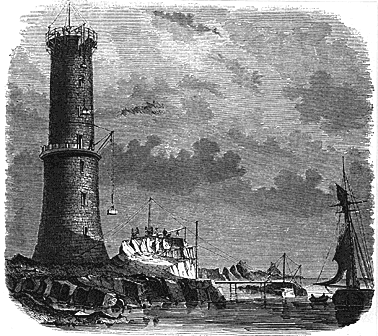 The work of Jean Guichard is an invitation to get to know better the lighthouses of the world, their history and their current events. Here are some tracks - readings and Internet sites - chosen to help you understand. For the world of lighthouses is complex and the quality of the information is uneven.
History of lighthouses
At the beginning of the XIXth century, the use of compound lense devices was a real revolution in the history of maritime signalling. With the main figure of Augustin Fresnel, France and its engineers occupied a central place in the contemporary history of lighthouses. Numerous books recount this (see the " Bibliothèque des phares ", heading "histoire"), in particular the voluminous Phares, published by Chasse-Marée. Also discover the history of the Lighthouses Commission and the engineers of the Departments of civil engineering who made a career in the service of lighthouses service Au service des phares (Presses Universitaires de Rennes). It is useful to also consult with the same editor Gardiens de phare, the history of lighthouse Guards , by Jean-Christophe Fichou. You can also discover l'histoire des phares français (history of French Lighthouses) on the internet site of the national School of the Departments of civil engineering Ecole nationale des Ponts et Chaussées.
History of a lighthouse
If you are looking for information about a particular lighthouse , there are two reliable data bases. The site of the historian Jean-Christophe Fichou, Phares de France , permits you to discover the history of each lighthouse, thanks to explanatory notes and sketches. You can also check Inventaire des grands phares du littoral français , written by Francis Dreyer for the Equipment and Arts ministries.
Visits and museums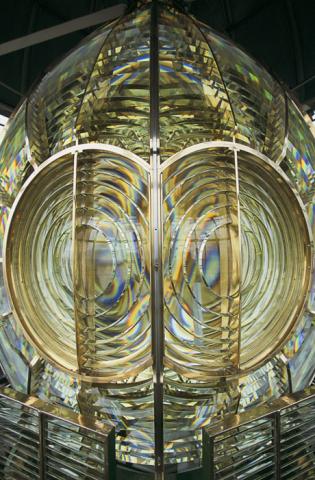 Numerous French lighthouses are opened to visit. Inquire with: Bureau des phares et balises
Direction des Affaires Maritimes
    3 Place Fontenoy,
    75700 PARIS 07.
    Tel : 33 1 44 49 86 81.
    Email : france-ocean@equipement.gouv.fr
Internet : www.mer.equipement.gouv.fr
The lighthouse of Cordouan, in the Gironde's estuary, is the oldest lighthouse of the French coasts.
It is also one of the most beautiful. The Association for the protection of the lighthouse of Cordouan will help you to prepare your visit:
Office de tourisme du Verdon
    22, rue François Le Breton
    33123 Le Verdon-sur-Mer
    Tel : 33 5 56 09 61 78
    Email : sauve.cordouan@wanadoo.fr
With Cordouan, the island of Ouessant is the second "key" destination which deserves a trip. To go on the island, take the boat in Brest (company Penn Ar Bed), you will pass on your way the lighthouses of Petit-Minou, Saint-Mathieu, Kéréon on arrival to the port of Stiff, you will discover a magnificent XVIIth century lighthouse, soon to be classified as an historical Monumenent.You will then cross the village of Lampaul to go to the Point of Pern, where the museum of lighthouses le musée des phares, is installed in the lighthouse of Créac' h since the 1990s.
There are numerous museums worldwide, often situated in lighthouses, as the museum of Scotish lighthouses at Kinnaird Head ( Scotland) or the museum situated in the very beautiful area of Lindesnes, in the South of Norway. You will find the landscapes and atmospheres of Jean Guichard's photos there.
Foreign Lighthouses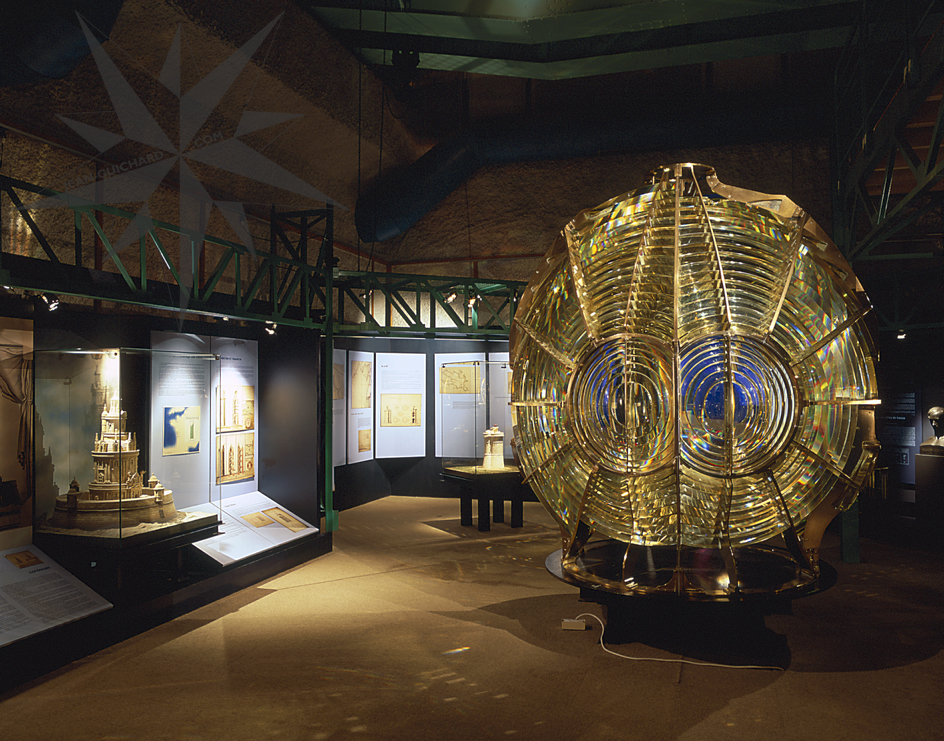 To obtain information about foreign lighthouses, the best solution is often to go on the internet site of the service in charge of their management. The International Association of Maritine Aids to Navigation and Lighthouse Authorities groups together the services of the lighthouses throughout the world, and they will give you the necessary contacts. The services of the lighthouses of the British islands - Trinity House in England, Northern Lighthouse Board in Scotland, the Commissioners of Irish Lights in Ireland - offer remarkable historical columns. You will find information about the lighthouses of the Scandinavian countries on the sites of their maritime administrations, for example in Iceland ( Lighthouse in Icelandic is Vitar ) and in Finland (lighthouse in Finnish is majakat). Let us note finally an excellent site on German lighthouses www.leuchttuerme.net ).
In Canada and in the United States, lighthouses are managed by coast guards. Their sites have a historical section dedicated to the history of these forces, should they be civil or military, who carry out missions of surveillance and rescue:
www.uscg.mil for the american Coast Guards
www.ccg-gcc.gc.ca for Canadian Coast Guards - . See in particular on this site USQUE AD MARE. which traces "A History of the Canadian Coast Guard and Marine Services" by Thomas E. Appleton.
The United States provide a very big number of Internet sites dedicated to lighthouses. We advise Lighthouse Directory, a very complete site hosted by the University of North Carolina. And, for the lighthouses of New England, the site of Jeremy d'Entremont, New England Lighthouses. A virtual tour.
Bibliography
HISTORY
Dreyer (Francis) et Fichou (Jean-Christophe), L'Histoire de tous les phares de France, Ouest-France Édilarge, 2005.
Empereur (Jean-Yves), Le Phare d'Alexandrie, Découvertes Gallimard, 1998.
Fichou (Jean-Christophe), Gardiens de phares 1798-1939, Presses universitaires de Rennes, 2002.
Fichou (Jean-Christophe), Il était une flotte pour les phares, Marines Éditions, 2009.
Fichou (Jean-Christophe) et Guichard (Jean), Les Maisons-phares, Ouest-France, 2011.
Fichou (Jean-Christophe), Le Hénaff (Noël), Mével (Xavier) et alii, Phares. Histoire du balisage et de l'éclairage des côtes de France,  Le Chasse-Marée-Armen, 1999.
Guigueno (Vincent), Au service des phares. La signalisation maritime en France, XIXe-XXe siècles, Presses universitaires de Rennes, 2001.
 Guigueno (Vincent), Les phares. Gardiens des côtes de France, Gallimard, 2012
Mével (Xavier), Guide des phares des côtes de France, Le Chasse-Marée, 2004.
Morrison-Low (Alison), Northern Lights. The,Age of Scottish Lighthouse, National Museums Scotland, 2010.
Renard (Léon), Les Phares, L'Ancre de Marine, 1990 (1re éd. 1867).
Stevenson (D. Alan), The World's Lighthouse before 1820, Oxford University Press, 1959.
TESTIMONY, MONOGRAPHS
Collet (Daniel), Phares du Ponant. L'éclairage des côtes du Finistère de la fin du XVIIe siècle à 1920, Skol Vreizh, 1992.
Condroyer (Émile), Des hommes dans la tempête, 1930, rééd. La Découvrance, 2007.
Cozan (Louis), Un feu sur la mer. Mémoires d'un gardien de phare, Les oiseaux de papier, 2010.
Faille (René), Les trois plus anciens phares de France : Cordouan, les Baleines, Chassiron, Éditions Patrimoines et Médias, 1993.
Gestin (Jean-Pierre), Les Phares d'Ouessant, Ouest-France, 1992.
Guigueno (Vincent) et Vattier (Valérie), Le Phare Amédée. Lumière de Paris et de Nouvelle-Calédonie, Musée maritime de Nouméa-Points de Vue, 2010.
Le Cunff (Louis), Feux de mer, 1954, rééd. L'Ancre de Marine, 2000.
Péret (Jacques) et Gauriaud (Christophe), Cordouan, sentinelle de l'estuaire, Geste éditions, 2007.
NOVELS
Abraham (Jean-Pierre), Armen, Le Seuil, 1967.
Faye (Éric), Je suis le gardien du phare et autres  récits fantastiques, José Corti, 1997.
Le Braz (Anatole), Le Gardien du feu, 1900, rééd. La Digitale, 1993.
La Prairie (Yves), Les Cent Un Propos d'un gardien de phare, Le Cherche-Midi éditeur, 1988.
Rachilde, La Tour d'amour, 1899, rééd. Le Mercure de France, 1994.
Stevenson (Robert Louis), Records of a Family of Engineers, 1912, rééd. Cambridge University Press, 2011.
Swarte (Vincent de), Pharricide, Calmann- Lévy, 1998.
Verne (Jules), Le Phare du bout du monde, 1905, rééd. Ombres, 1997.
COMICS
Briac, Armen, Éditions Le Télégramme, 2008.
Chabouté, Tout seul, Vent d'Ouest, 2008.
Le Floc'h (Bruno), Trois éclats blancs, Delcourt, 2004.
YOUTH
Gestin (Jean-Pierre), Trois éclats rouges toutes les quinze secondes, Le Patio, 2000.
Mahoas (Hugues), Le Phare de l'enfant algue, Beluga/Coop Breizh, 2008.
Swift (Hildegarde H.) et Ward (Lynd), The Little Red Lighthouse and the Great Gray Bridge, 1942, rééd. Voyager Books et Harcourt, 2002.
BEAUTIFULL BOOKS
Allard (Émile), Phares et Balises au XIXe siècle, 1883, rééd. Presses de l'École des Ponts, 1995.
Gaumy (Jean), Le Livre des tempêtes, Le Seuil, 2001.
Guichard (Jean) et Guigueno (Vincent), Phares, Éditions du Reader Digest, 2005.
Guichard (Jean), Guigueno (Vincent) et Pierrefeu (Sandrine), Les plus beaux phares de France, Éditions du Reader's Digest, 2011
Jouas-Poutrel (François), Les Phares du gardien de phare, Ouest-France, 2000, rééd. 2012.
Plisson (Philip et Guillaume), Phares ouest, Les Éditions du Chêne, 2009.
Rubinstein (Bernard), Éclats de phares, Glénat, 2011.
FILMS AND DOCUMENTARIES
Armen, Les coulisses de l'exploit, 19/12/1962 (sur le site de l'INA).
Lioret (Philippe), L'Équipier, 2004.
Powell (Michael), Le Mystère du phare hanté (The Phantom Light), 1935.
Paranthoën (Yann), Le Phare des Roches- Douvres, Ouï-Dire, 2005.
WEB SITES